Our newest car, Gnubs, placed 8th out of 82 in the Endurance Event at the 2023 competition in Oshkosh, Wisconsin. 2023 was our year for digging deeper into our past designs and fighting for more control over our packaging and manufacturing. Named after a new feature in our frame that improves joint strength and saves weight, Gnubs is a robust design weighing in at 25lbs lighter than Toro. Our pride and joy this year was our custom-made differentials, which proved to be a huge success in the first SAE competition that required four-wheel drive.
Chief Engineer: Frank Burke-Olson

Project Manager: Laura Ferrucci

Operations Direction: Nathan Arnold

Suspension Lead: Turner Davidson

Powertrain Lead: Dash Slamowitz, Tej Patel

Ergonomics Lead: Konrad Laudon

Chassis Lead: Hannah Huang

DAQ Lead: Ben Ferreira
Our most tropical car by far, Toro, raced at Baja SAE Tennessee in May 2022. Toro was one of our best car so far with major improvements from the previous year. Toro cut down quite a lot of pounds from last year as we improved on our four wheel drive system. Toro was an absolute unit with an impressive ride height and ability to clear- or just demolish- every obstacle in his path.
Chief Engineer: Jose Amador
Project Manager: Francisco Madera
Suspension Lead: Frank Burke-Olson
Powertrain Lead: Dash Slamowitz
Ergonomics Lead: Laura Ferrucci
Chassis Lead: Nathan Arnold
DAQ Lead: Cameron Mastoras
Our largest car, Dory, raced at Baja SAE Louisville in May, 2021. Placing 6th in endurance and 8th out of 61 teams overall, Dory car is our highest placing car to date. She is known for her tank-like durability.
Chief Engineer: Jonathan Kim

Project Manager: James Slattery

Operations Director: Reuben Grossman

Powertrain Lead: Jose Amador

Suspension Lead: Frank Burke-Olson

Chassis Lead: Willa Ostroff

Ergonomics Lead: Cameron Mastoras

Business Lead: Francisco Madera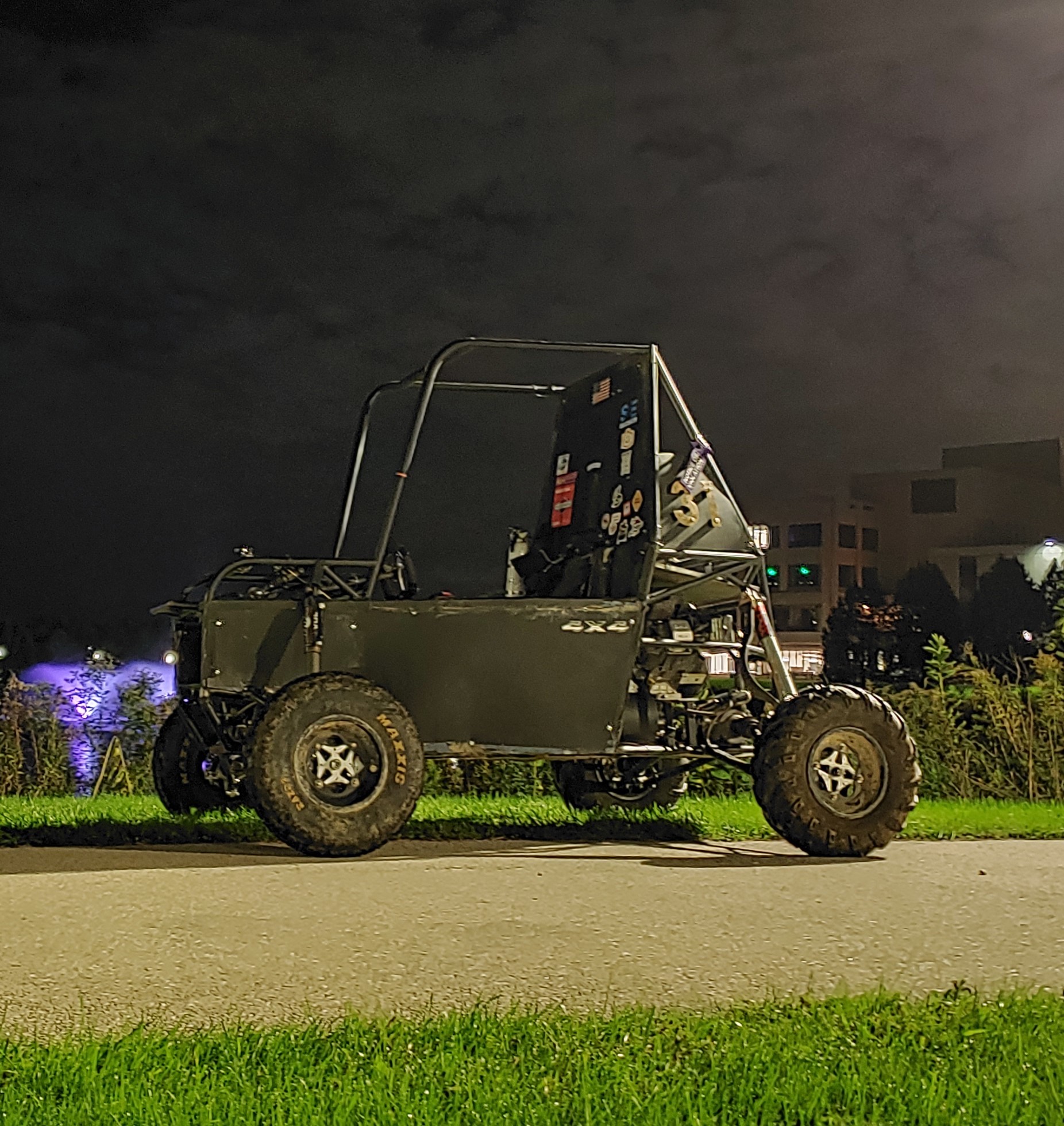 Lil Slurpie was finished in the hours before the Covid-19 pandemic forced us to retreat from campus in March of 2020. As our first fully functional four wheel drive car, Slurpie was the most innovative NU Baja car at the time.
Chief Engineer: George Cheng

Project Manager: Andrew Johnson

Operations Director: Kelly Davis

Powertrain Lead: Mateo Osorio

Suspension Lead: Andrew Gutknecht

Chassis Lead: Diana Tschirky

Ergonomics Lead: Jonathan Kim

DAQ Lead: Reuben Grossman

Business Lead: James Slattery
Clad in Pink Camouflage, Tina has been our most reliable car yet. Slightly heavier than Dino but built to be reliable, it did have a small engineering failure after leading in the top 10 after being gridded 21st in Tennessee 2019. Some quick repairs had Tina back out on the track ready for more action even with a sketchily fixed upright. Tina came in 14th at Midnight Mayhem XI, one of the team's best competitions yet.
Chief Engineer: Luke Corsiglia

Project Manager: Spencer Kost

Operations Director: Armando Marquez

Powertrain Lead: Cali Ashmun

Suspension Lead: George Cheng

Chassis Lead: Kelly Davis

Ergonomics Lead: Harvey Gill

DAQ Lead: Reuben Grossman

Business Lead: Andrew Johnson
Dino is our lightest and most aggressive car. We made a few changes from Bongo, including a much smaller frame, reducing weight by about 35 lbs, adding a hood and tweaking suspension and gearbox components. You can spot Dino because he is our only gray car, and is probably at the front of the race
Dino's first race was in Maryland, where we placed 41st overall.
Chief Engineer: Colton Colwell

Project Manager: Alexander Friedman

Powertrain Lead: Stephanie Gavell

Suspension Lead: Luke Corsiglia

Chassis Lead: Armando Marquez

Ergonomics Lead: Harvey Gill

DAQ Lead: Guarav Gupta

Business Lead: Spencer Kost
Bongo was the car we built during the 2016-2017 school year. He's been to many competitions, including Maryland, Kansas, Midnight, and Blizzard Baja.
Trivia Fact: During the Kansas race, one of Bongo's gearbox shafts broke right in half. We didn't have a spare, so we had to drag Bongo all the all the way back to the tent, disassemble the entire powertrain system to find the problem, weld the shaft back together (don't do this at home) and then reassemble everything. We did all of this in record time and even got a full lap in before our welded shaft snapped again! Bongo now lives with one of our past chief engineers in working condition.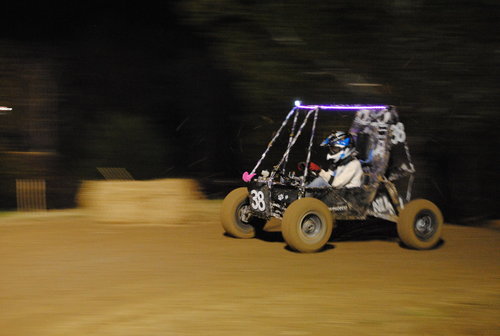 Elbows is our third oldest car. Kansas 2016 and Midnight Mayhem 2016. Her proudest accomplishment was both tying for first in aesthetics as well as seventh in maneuverability at MM. The name Elbows comes derives from her cockpit bending out wide like elbows to accommodate taller drivers. She is an absolute workhorse, and is one of our most reliable cars. Elbows has retired to a nice life with one our alumni, but is still ready to drive at a moments notice.
Dressed in a classy, sleek black, Knuckles is built for hill climbing. He was designed and built in 2014 then refined in 2015. Knuckles raced in Maryland 2015 as well as Blizzard Baja 2016 and Midnight Mayhem 2016. The name comes from the bulky and tall front uprights which are referred to as knuckles. Knuckles is currently undergoing some surgery in its retirement, getting a dirtbike engine for even more fun.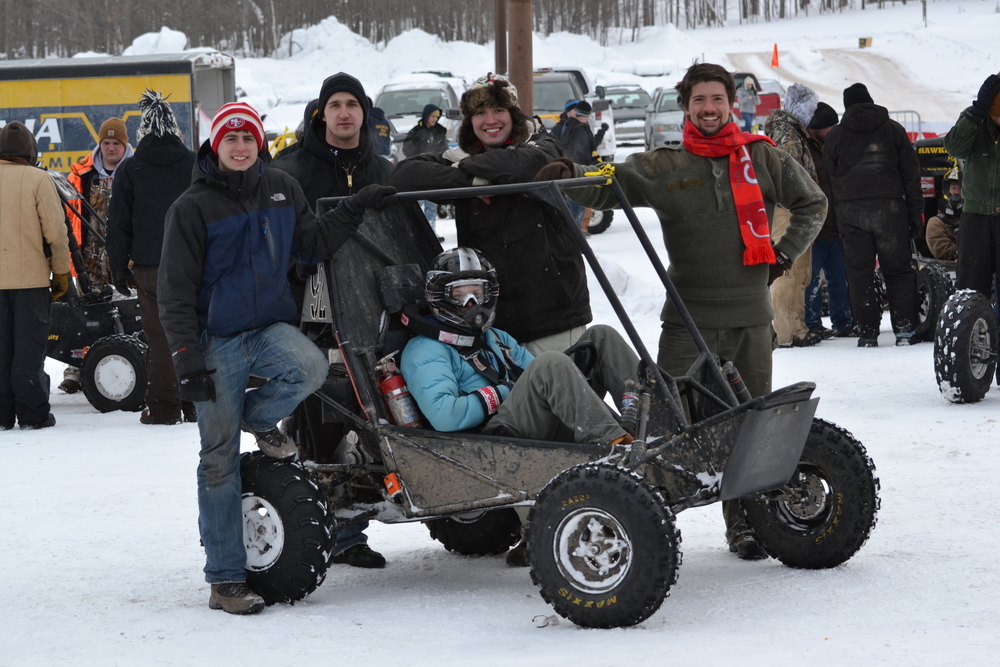 Spot raced in Tennessee 2013 and Blizzard Baja 2013. He now lives on a farm in Maine with one of our alumni, still in working condition nearly 10 years after being designed.
Northwestern has been building Baja cars since 1988. All of our pre-Spot cars are lost to history, either scrapped or sitting somewhere unknown to us. If you know of an old NU car, we'd love to talk!